Display the latest chart or a specific one, with a custom amount of tracks.
---
Music Chart Small
Choose a smaller design to fit magazine-style layout.
Select a chart or use the latest, with options to display or hide the chart title and featured image. Every track can have an MP3, YouTube or Soundcloud preview.
I am raw html block.
Click edit button to change this html
play_circle_filled Presioname
Latino Radio Station with five frequencies that has 75% of Eastern North Carolina coverage.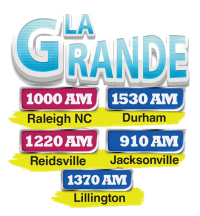 Transform Your Kentha Theme
In The Perfect Radio Station Website
Custom Post Types
Radio channels
Radio shows
Schedule
Charts
Members
Schedule shortcodes
Schedule grid
Upcoming shows carousel
Now on air show
Now on air mini
Upcoming shows slider
Other shortcodes
Related shows carousel
Related members carousel
Related chart carousel
Chart
App icons
Current track title feed
Featured Widgets
Now on air show
Now playing track
Upcoming shows
Charts
play_circle_filled Tocame